Back to People
Lucy D'Arcy-Young
Lucy joined Hunter Group in 2016, having previously worked in the tertiary sector both in the UK and New Zealand for over 10 years. Her roles have been many – administration, development, process analysis, training and support.  
Lucy's breadth of experience has enabled her to apply broad and forward looking solutions, something she enjoys immensely.   "I really enjoy improving processes that take in the bigger picture, and have a long-lasting effect" says Lucy.
Lucy is passionate about her work, and her natural empathy fosters close and trusting relationships with her clients. 
Her involvement with clients is long-standing, and she is highly respected for the enthusiasm, skill and hard work that she brings to the job.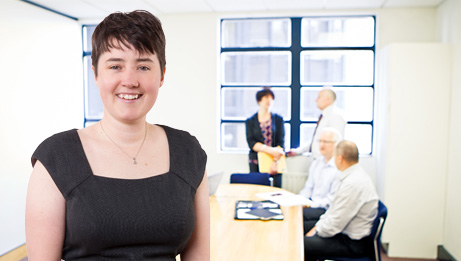 Lucy's life has always been full of variety, spending her childhood and schooling in several European locations, and being exposed to different cultures and languages. 
She carried her interest in languages through to her tertiary study, graduating with a joint BA Honours in French and Spanish at the University of Wales, Aberystwyth (she can even pronounce it!), followed by an MA in Philosophy from Birkbeck College, University of London.  After leaving university she spent a couple of years teaching English in Hong Kong.
Outside of work Lucy is keen on enjoying the great NZ outdoors, often on her bike, though not as often as she would like as she also enjoys the demands of a young family.