Back to People
David Young
A Director since the inception of Hunter Group in 1993, David is jointly responsible for leading and guiding the firm's direction, development and growth opportunities. Plus he relishes the occasional consulting engagement as an opportunity to work with clients to find and implement solutions.
David is adept at distilling complex issues to identify the crux of a problem, while recognising people elements will be crucial to any endeavour. David is also known for having an astute eye for the practicality and risks of any proposal.
David is adept at distilling complex issues
Bubbling with ideas, energy and enthusiasm, David is described by one of his colleagues as having a 'restless metabolism'.  His direct, positive and confident way often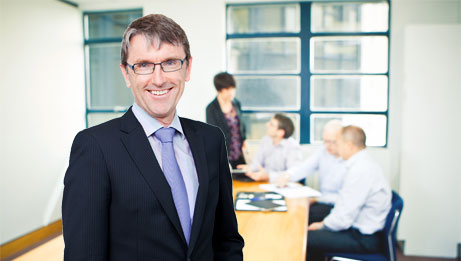 rubs off on others. His genuine interest in people flows through to his obvious delight at helping others succeed.
David's predilection for technology is evident in the practical management of Hunter Group's (mostly) paperless office; through to his talent for envisaging how technology can best support strategy within major organisations / the strategic possibilities of technology for other organisations. He knows both what can be done, and what will work.
David has a BCA in accountancy and information systems, a BSC in computer science, and is a chartered accountant. He is a certified PRINCE2 Practitioner.
David's astute eye for risk doesn't seem to be at the forefront when he is outside of work. You'll find him on his snowboard or his bike whenever time and conditions allow, or taking time out to go tramping or travelling/adventuring with his family.
David loves a good challenge and is a great person to have on your side when the going gets tough.